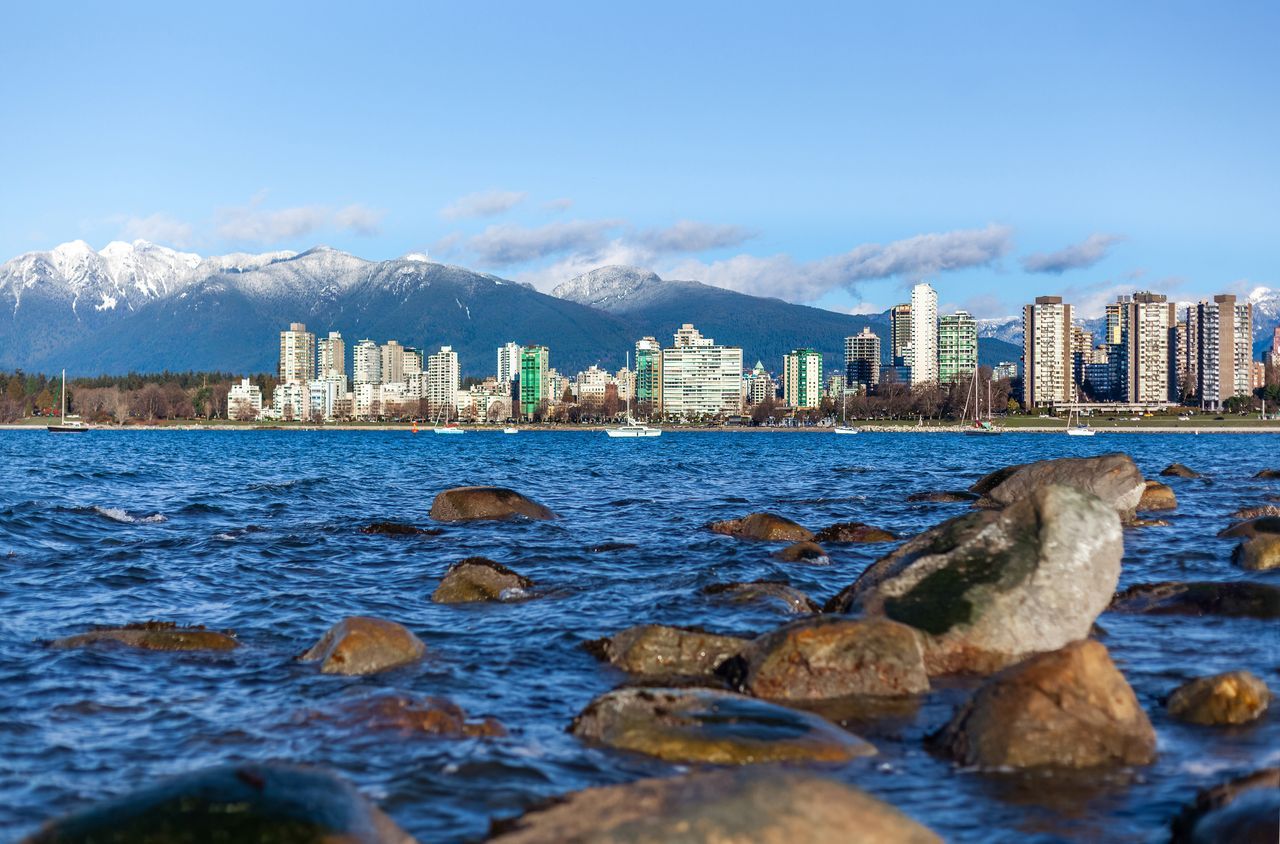 Downtown Vancouver view from Kitsilano beach
In Vancouver, the Canadian seaport city that has suffered more than a year of sliding sales, the real estate market in the metro area is revving up again.

According to the Real Estate Board of Greater Vancouver (REBGV), residential year-over-year sales in August increased 15.7% after a 12.7% decrease in July.

REBGV President Ashley Smith said in a statement in the report that with more homes on the market and more demand from buyers, "the supply of homes isn't accumulating like earlier in the year. These changes are creating more balanced market conditions."

Surrounded by mountains, Vancouver, which is in the province of British Columbia, has traditionally been a hot market because it's a lively, culturally savvy city that has an affinity for the great outdoors.

Its temperate climate makes it the perfect venue not only for a variety of al fresco events and festivals but also for ambitious athletic activities.

"It's the California of Canada," said Monique Badun, senior vice president, sales for Sotheby's International Realty Canada. "In one day, I can swim in the ocean, and an hour later I can ski in the mountains."
Ranked as one of the top 10 most livable cities in the world by 
Mercer, a human resources consulting firm
, Vancouver, which is home to The University of British Columbia, has some of the most desirable real estate in the country.
"Geographically, it's like San Francisco," Ms. Badun said. "The closer to the core you get, it's the winning ticket. It's not quite New York City, but prices start at C$2,000 (US$1,499) per square foot. Starter homes are C$2 million to C$4 million."
Nicknamed Hollywood North, it is a major film-production center. "The X-Files," "The Good Doctor," "Riverdale," "Smallville" and "Supergirl" are among the TV shows that have been shot there.
Here are profiles of four of the city's most coveted neighborhoods.
First Shaughnessy
Named after founder Thomas Shaughnessy, the former president of the Canadian Pacific Railway, First Shaughnessy is the oldest, most prestigious and one of the most expensive neighborhoods in Vancouver.
Created in 1907, it features heritage houses on large properties.
The exclusive residential neighborhood—it's only nine blocks long and 10 blocks wide—is bordered by 16th Avenue on the north, King Edward Avenue on the south, Oak Street on the eastand EastBoulevard on the west.
It has some 350 homes, most of them built between 1907 and 1910 in the Craftsman style. These estates, which are on sites ranging from 12,500 square feet to one acre, sell for C$6 million to C$30 million, said Ms. Badun, who added that First Shaughnessy has a classic feel and look similar to Greenwich, Connecticut.
"Since 2015, First Shaughnessy has been a Heritage Conservation Area," she said. "You cannot tear down anything prior to 1940. Before the designation, there were tear-downs, so there are some newer homes. Most of them have not come on the market yet, but the few that have are reselling for $25 million to $35 million."
Nor, added Karley Rice, an agent for Macdonald Realty, can you alter the exteriors. "It's always been Vancouver's most distinguished neighborhood, and because of these rules, it will remain this way forever," she said.
Ms. Badun agreed that there's no other neighborhood like it in Vancouver.
"It has stunning beauty," she says, "and it's incredibly convenient—it's 10 minutes from the airport, six minutes from the downtown, six minutes from the beach and four minutes from the shopping areas."
More: A California-Style Residence on the Coast of British Columbia
Ms. Rice said that in addition to being the geographical center of the city, First Shaughnessy is distinguished by its winding, tree-lined streets and the type of large homes and lots that are typical outside the city's downtown area.
"Vancouver is on a grid, except for First Shaughnessy," she said. "And the width of the streets are not compact—wide boulevards run between them."
She said that most of the residents are "old prominent Vancouver families" but that a new younger generation is starting to move in.
"It's a changing of the guard," she said. "They are the ones who are modernizing the homes' interiors."
Although there are no schools in the neighborhood, there are several within walking distance. They include Shaughnessy Elementary, a public institution; York House School, an independent day school for girls in junior kindergarten to grade 12; and Little Flower Academy, the only Catholic high school for girls in British Columbia.
From Penta
: 
Gagosian Highlights Zao Wou-Ki's Friendship with I.M. Pei
Kitsilano
Kitsilano is a beachy, groovy neighborhood.
"Think California's Venice Beach or Santa Monica," Ms. Badun said.
It, too, has century-old detached homes, on lots of 33 feet by 122 feet, or more typically 50 feet by 122 feet.
The neighborhood also has rowhouses, duplexes and condos.
Although there are starter properties for C$2.2 million to C$2.5 million, Ms. Badun said buyers can expect to pay around C$2.75 million for a 2,300-square-foot, 100-year-old house on a 33-by 122-square-foot lot. Properties on the water along Point Grey Road near Kitsilano Beach, she added, sell for C$8.5 million to C$25 million.
"The neighborhood's popular and trendy to downsizers," she said.
Ms. Rice added that the wide range of prices attracts a "diverse group of people from all walks of life."
Kitsilano Point, or Kits Point as the locals call it, commands some of the highest prices, with detached houses selling for C$5 million to C$7 million, Ms. Badun said.
Regardless of size or age, houses are typically in the classic Craftsman style with wood shingles and front porches.
"They look like homes you see in New York's Hamptons," Ms. Badun said.
Kitsilano also has the distinction of housing the most expensive property in the province of British Columbia: 
The four-lot beachfront estate owned by Lululemon founder Chip Wilson
 that was assessed at C$78.8 million in 2018, according to published reports.

"The area along 4th Avenue and the beach where Wilson lives, what we call North of 4th, is like a lifestyles of the rich and famous," Ms. Badun said. "Point Grey Road, which borders it, was closed to vehicular traffic, so it is now a biking and walking path."

The clubs, restaurants and boutiques are centered along West 1st and West 4th Avenues.

Lululemon's flagship is on West 4th as is Mr. Wilson's first business, Westbeach, a snowboard and ski apparel company. Fable, a Canadian cuisine, farm-to-table restaurant, and Whole Foods also are on the street.

So is Gravitypope, a boutique that sells high-end men's, women's and children's footwear, displaying everything from sneakers to dress shoes on Carrara marble tables that are illuminated by 1960s Sputnik chandeliers.

The U.S. eyeglasses purveyor Warby Parker, the first one in Vancouver, set up shop on 4th Avenue. "It's always packed," Ms. Badun said.

Ms. Rice said that Tractor, "a gourmet healthy fast-food place that's tasty" is another popular West 4 spot.

"It's a lunchtime favorite," she said. "It's the place to go to meet friends or grab and go and take food back to the office."

She added that West 4 is also home to La Quercia, "which is renowned for its homemade pastas made on the premises. It's one of the best Italian restaurants in all of Vancouver."

On West 1st, Oddfish, a restaurant that Ms. Badun said is typical of Vancouver fare, serves fresh fish and vegetables.

More: Global Luxury Home Prices Rise at Slowest Rate Since Financial Crisis

Kitsilano and Lord Byng, public high schools, are in the neighborhood, which also has several public elementary schools, including Henry Hudson and General Gordon.

The neighborhood has 17 parks, and Kitsilano Beach draws not only residents but also people who live on the outskirts of Vancouver.

"It has basketball courts, playgrounds, an Olympic-size outdoor swimming pool and restaurants," Ms. Rice said. "People like to play beach volleyball and hang out and socialize."

Kitsilano has a variety of cultural institutions, including the Museum of Vancouver, which focuses on the city's history, the Maritime Museum, which opened in 1959, and the H.R. MacMillan Space Centre, an astronomy museum.

It plays host to several events, including the Vancouver International Children's Festival, which presents theatrical, music, dance, circus, puppetry and storytelling performances; Bard on the Beach, an outdoor Shakespeare festival; and the Celebration of Light fireworks contest.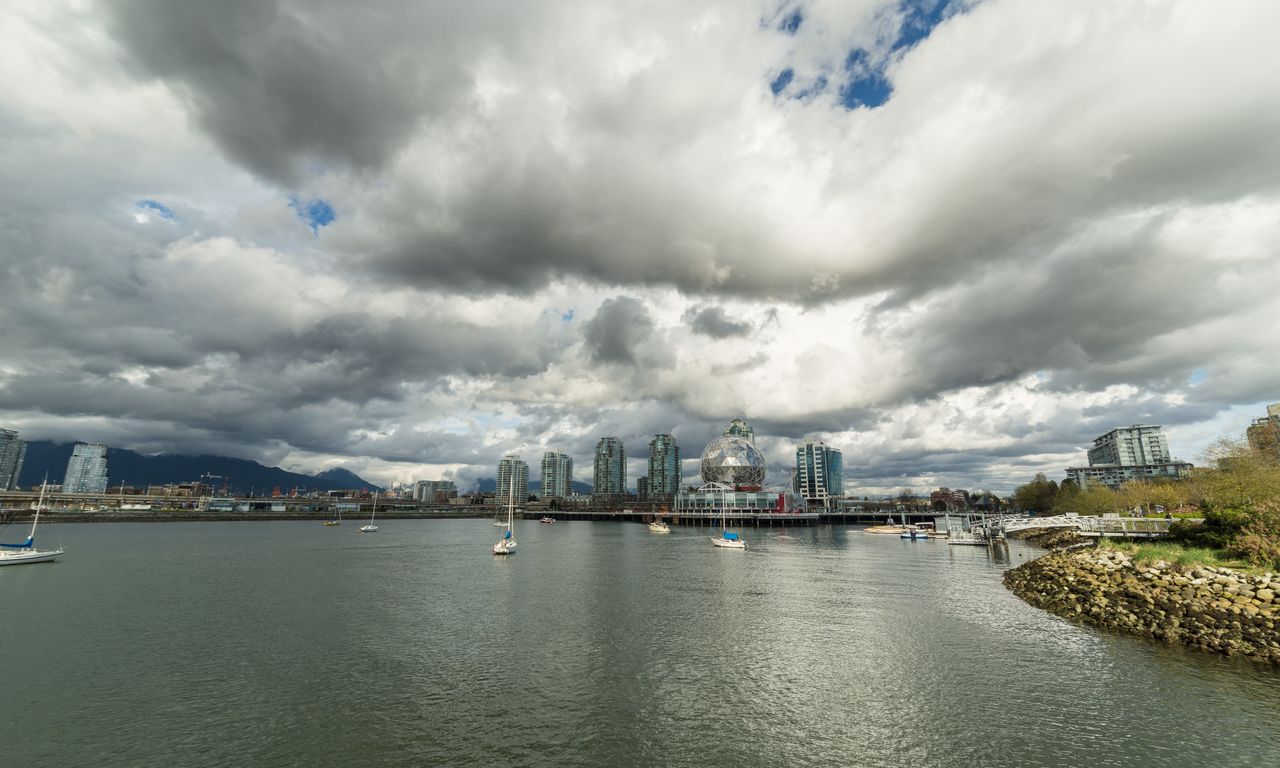 Science World and Olympic Village in False Creek, Vancouver
Sited at the shoreline and southeast corner of False Creek, the Olympic Village is a condo enclave whose initial units were erected to house the athletes for the 2010 Winter Olympics.

When the games were over, the condos were refurbished and put up for sale.

"The market was in a downturn, and the condos were not selling," Ms. Badun said, adding that there are now about 10,000 units. "The buildings were expensive to build because they were environmentally sensitive. Nobody was buying, and the city had to take over the project."

Today, the sleek glass buildings, whose street-level floors have retail components, are highly sought after.

"They are bringing C$1,700 to C$2,300 per square foot for the waterfront—some of the highest prices in the city of Vancouver," Ms. Badun said. "And there are more buildings going up."

At Canada House, the development's two signature waterfront buildings, units are selling for C$4 million to C$8 million, Ms. Badun said. In other buildings that do not have water views, one-bedroom units start at C$750,000, and two-bedroom-and-den condos start at C$1.4 million, she added.

"It's a very densely populated area, and it's a younger crowd," Ms. Rice said. "It's vibrant—there's a lot of foot traffic and activity."

She said that the neighborhood is unique because it's between two rapid-transit lines—the north-south Canada Line that arrives at the airport in 25 minutes and the SkyTrain that travels from the downtown waterfront to the suburbs. She added that in the next decade, a third line that stops nearby the neighborhood will be added.

"It's also easy to get around by bicycle," she said. "You can ride along the seawall all the way to downtown and The University of British Columbia. From the Olympic Village, it's only a 10-minute ride to the financial district."
Among the shops are the Flying Pig, a restaurant that prepares family feasts with fresh ingredients and is known for its steak and fries and mussels and fries; WildTale, a seafood restaurant that also features fare from the farm and field; an Urban Fare supermarket, a London Drugs pharmacy; and CRAFT Beer Market, which pairs half pints and burgers.

"The Tap & Barrel brewery is a popular spot," Ms. Rice said. "It has a patio that overlooks the waterfront."

The Creekside Recreation Centre, which has a restaurant, offers yoga and dance classes and has a gym and fitness center. Each June, it hosts the Concord Pacific Dragon Boat Festival that features 5,500 paddlers and attracts 100,000 festival-goers.
False Creek Elementary and Crosstown Elementary, public schools that are outside the village's borders, are within walking distance.
"In Vancouver, condo living is considered appropriate for singles or young families with babies," she said. "The dream of a single-family home is still alive. The people who are living in the village are young families, so high schools are not a big consideration."
"There's a ton of development going on in the area," Ms. Rice added. "The neighborhood runs into False Creek Flats, which is a community in the works that will include an arts district. I push all my condo investors to consider the area."
Ms. Badun said the mix of retail, restaurants and residences makes the Olympic Village a real community.
"You can walk to the bank and the grocery store, which is rare in all of Vancouver," she said. "It's far away from the hectic pace of downtown, but you can walk to your job downtown along the seawall and be in your office in 20 minutes. The village has everything you need—you don't have to leave unless you want to."
More: Canadian Contemporary With a Seawater-Filled Channel Running Through It
Point Grey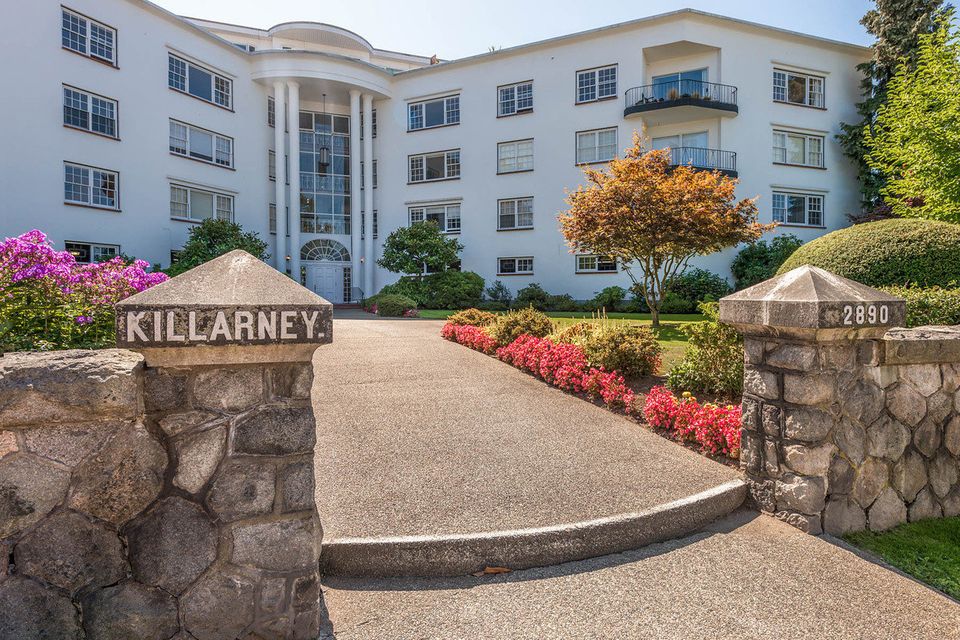 Exterior view of a residential building in Point Grey, Vancouver, where a two-bedroom luxury apartment is currently listed for $1.2 million.
SOTHEBY'S INTERNATIONAL REALTY CANADA
On the west side of the city, Point Grey is where many of the largest homes are concentrated.
The section of the neighborhood bordered by Fourth Avenue on the south, the beach on the north, Blanca Street on the east and forests on the west is, according to Ms. Badun, "one of the most expensive pockets in Vancouver."
That section has only 100 homes, including the mansion philanthropist Joe Segal listed in June 2017for C$63 million, a record asking price for the city of Vancouver. (It's 
still on the market
—now for C$58 million.)
The record sales price, Ms. Badun added, was set in 2014, when a 17,000-square-foot mansion styled as a French chateau on 2.7 acres sold for C$51.88 million.
"The Point Grey neighborhood, however, does offer a mix of homes," she said. "Some are on lots of 20,000 to 40,000 square feet; others are on 33-by-122 and 50-by-122 lots. There also have been a lot of new builds in the last 10 to 15 years."
Prices start at C$2.2 million to C$2.3 million, which, Ms. Badun said, buys a small, family house. Larger homes for a growing family with two children start at C$3 million, and houses that are 20 years old and need some cosmetic work generally command C$4 million to C$5 million, she added.
Ms. Rice said that the neighborhood is surrounded by parks, including the Pacific Spirit Regional Park that leads to lands owned by the University of British Columbia.
"Point Grey is at one of the highest geographical points in Vancouver," she said. "The neatest thing is that on the north side, you hit the Pacific Ocean. The land slopes down so you have views of the city, the mountains and the water."
She added that "there's more modern architecture in this neighborhood than in other parts of Vancouver. The homes are designed to feature windows that showcase the views."
Tenth Avenue is the neighborhood's commercial corridor, which features a variety of restaurants, coffee shops and boutiques, including Daniel, which sells everything chocolate; Burgoo, which serves comfort food like mac and cheese and chicken pot pies; and Gild & Co, which offers new and antique home furnishings.
Ms. Rice said that Nourish Cooking School, which promotes organic ingredients and focuses on healthy eating for families, "is popular with the young moms."
Off 10th Avenue, there's Rebecca Bree Boutique, which Ms. Badun called "a fabulous, local clothing shop."
She said Point Grey is "one of the few neighborhoods of detached residences in the city where you can walk to the high street where the shops are."
Ms. Rice agreed that livability is one of Point Grey's more attractive attributes. "You can pick up the kids after school and go to the beach," she said. "It gives city kids a feeling of freedom."
The schools, such as West Point Grey Academy, which is for students in junior kindergarten to 12th grade, are a major attraction. According to Ms. Badun, the academy is the only "co-educational, private non-denominational day school in the city."
Public schools in the neighborhood include Queen Mary Elementary, Queen Elizabeth Elementary and Lord Byng High School.